You may have noticed a bit of change in the air lately, and that's because the Clearly Australia family is growing! We're excited to share that OzContacts, YourContacts, NetOptical, and WebContacts are now part of Clearly Australia.
This means you can shop for the contact lenses that you already know and love, with even more advantages. Read on to get to know us a little better and find out about the features and benefits you get with Clearly Australia.

Your contact lenses, with added benefits
Shop your favourite contact lenses, along with new ranges available exclusively at Clearly Australia.  
Premium vision for even better value: Try everclear
Exceptional vision at a price you'll love – try everclear for premium quality lenses at an everyday affordable price. 
We are obsessed with providing affordable eyecare for every Aussie. We are determined to remain Australia's biggest and best service-focused online optical store.
– Duncan Brett, Clearly ANZ General Manager 
It's easy to shop for your contacts at Clearly.com.au:
Add your contacts to your cart

When you're ready to checkout

, either log in with your email or create an account

:

I

f you're completely new to Clearly Australi

a, 

you can 

create an account

 quickly and easily.

If 

you've previously shopped at 

Ozcontacts

, 

YourContacts

, 

NetOptical

, or 

WebContacts

 you should have received an email that helped you to link your account to Clearly Australia.

Proceed through the checkout process to take advantage of free shipping and other benefits of shopping at Clearly Australia

!

 
---
Questions?
Get in touch
with our Vision Ambassadors. We're available 24/7 to answer any questions you have – you can call us at 1 800 639 478 or look for the 'chat' button in the bottom right corner of your screen to chat to us online.
---
So, what's new? Benefits you get with Clearly Australia
Based here in Australia, we offer the same, quality Aussie service you're used to, but with a whole new set of benefits that make it even easier to shop for your contact lenses online: 
Free shipping:

 It doesn't matter how much you 

spend,

 you'll always get free standard shipping throughout Australia

 on your contact lenses.

 

24/7 customer service:

 Connect with our Vision Ambassadors 24/7, via phone, email, or live chat

.

 

Faster delivery:

 We carry the largest stock in Australia, with over 2 million contact lenses, ready to ship from our Sydney warehouse. Buy before 4pm and we'll get that order out the door the same day.

 

More contact lens brands:

 Shop all your 

favourite

 brands alongs

ide Clearly Australia's premium affordable contact lens range 

everclear

, 

which offers premium quality at a price you'll love.

 

Glasses and sunglasses

:

 Shop frames and sunglasses, including the latest from designer labels such as Ray-Ban, Oakley, and Dior

.

 

100% Health Fund approved:

 We

'

re covered with all local providers and we'll email your receipt after your order is shipped, which you can then use to claim from your Health Fund provider.

 

Same day delivery for Sydney:

 If you live in the Sydney metro area

 and need your contacts fast

, take advantage of same-day delivery when you order before 12pm. 

 

Deals and promotions:

 Look out for regular offers and promos, including our 'always on' 10% discount for contact lenses 

– sign up to our newsletter to stay in the loop.

 

Subscription service:

 Sign up 

to our 

subscription 

service

 and receive your lenses automatically at regular intervals that suit you

.

 

Price match guarantee:

 We'll match the price of any online retailer with 

Clearly Price Match Guarantee

.

 

Optometrists across Australia:

 W

e 

partner

 with opto

metrists across the country, so it's easy to update your prescription – 

find your nearest location

.
---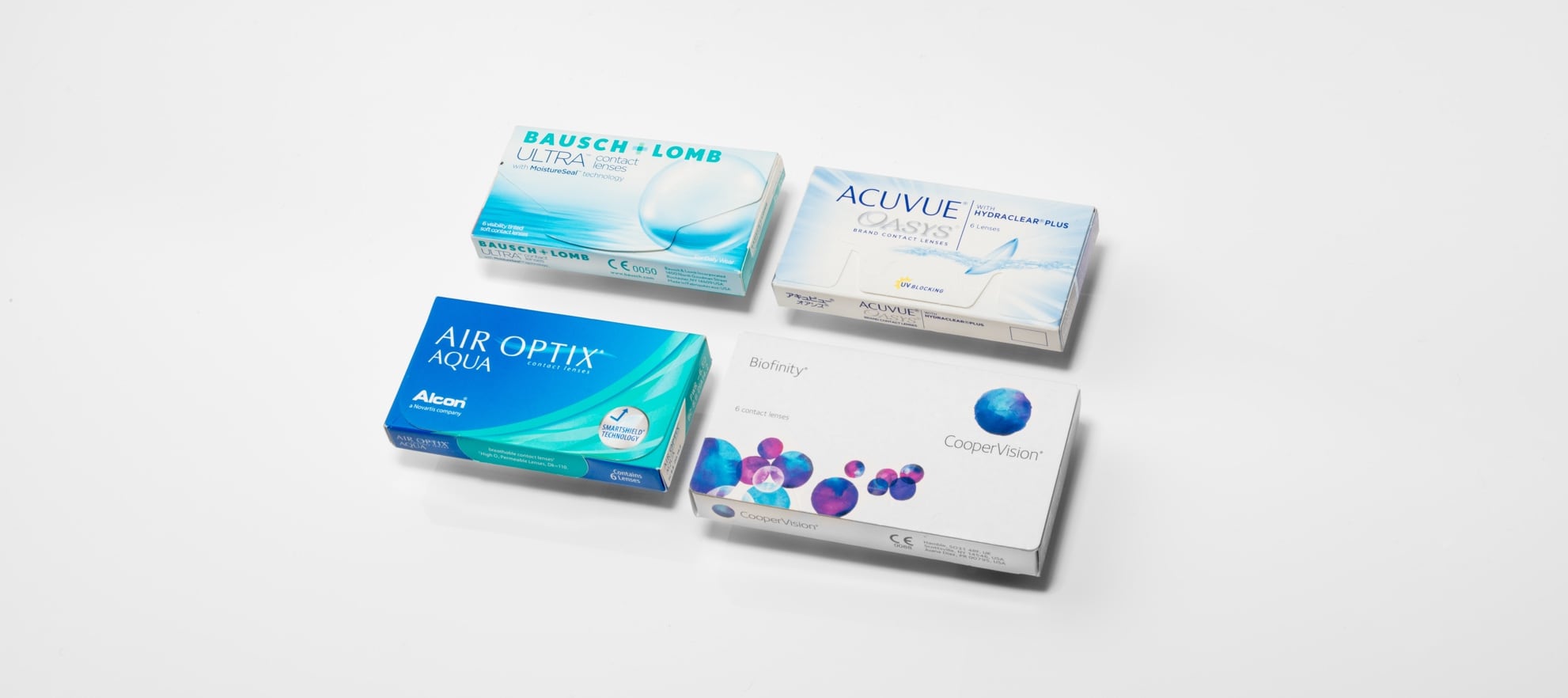 Meet Clearly Australia: Your questions answered
We might be Australia's biggest and best online contact lens store, but we're all about keeping our service quick and simple, so you get can get your contacts easily and then get on with whatever you need to do today!  
We're looking forward to getting to know you, and you can learn more about us below. 
---
Is Clearly.com.au an Australian company?  
Yes – Clearly.com.au is based in Sydney, where our warehouse and operations team have been serving customers across Australia since 2014. We're now proud to be the biggest online contact lens retailer in Australia.  
The reason we can deliver this kind of service to our local customers is because we're part of Clearly, a global online retailer of contact lenses, eyeglasses and sunglasses, with headquarters in Vancouver, Canada. Clearly is one of the largest online optical retailers in the world, serving millions of customers across the globe every day.
"Our focus is on keeping our prices low and our service levels high. We're able to achieve this by investing in the biggest range and largest inventory holding of branded and private label contact lenses in Australia, all locally shipped from our Australian warehouse in Sydney."
– Duncan Brett, Clearly ANZ General Manager. 
Will these changes impact prices? 
As the largest online contact lens supplier in Australia, Clearly.com.au has always offered competitive prices that have historically been cheaper than OzContacts, YourContacts, WebContacts, and NetOptical across the majority of products. We also have a price match guarantee that is focused on providing affordable contacts for every Aussie. 
"Because we are part of a global company, we can buy in bulk and pass the savings on to our customers, who have come to rely on us for free shipping, next day contacts Australia wide, same day contacts for Sydney Metro, and the widest range of frames and innovative lenses in Australia."
– Duncan Brett, Clearly ANZ General Manager.
Do I have to create a new account? 
If your email was previously registered with OzContacts, YourContacts, WebContacts, or NetOptical, you should have received an email asking to confirm you'd like to keep your account active and create a new password for Clearly Australia. If you followed this process, you'll automatically be able to log in to Clearly.com.au, easily reorder and access your order history.  
You can also quickly create a new account by selecting 'Login' in the top right corner of your screen. If you have any questions, contact our Eyewear Ambassadors 24/7 via phone, email, or online chat. 
How can I contact customer service? 
We're available 24/7 to help with any questions or concerns you might have when shopping with Clearly Australia. 
Email us – 

visioncare@clearly.com.au

 

Chat to us online while you're browsing the site

 
Our Vision Ambassadors are trained to help with every part of your journey with Clearly.com.au, from finding the right products and locating an optometrist, to styling and fit questions for glasses and sunglasses.   
How do I get free shipping? 
You'll always qualify for free standard shipping when you buy contact lenses at Clearly Australia, no matter how much you spend.  
For even quicker service, you can upgrade to express delivery for $5. We also offer next-day delivery to customers in the Sydney Metro area if you order before 12pm.   
What is Clearly Australia's returns policy? 
We accept contact lenses for return within 30 days of receiving them. They must be in the original boxes, factory-sealed, unmarked, and at least 6 months from the expiration date. 
Of course, if you ordered before July 1, we will honour the return policy of your previous order with OzContacts, YourContacts, WebContacts, and NetOptical. After that, our return policy will apply to all orders made at Clearly.com.au.  
Read more about our returns policy. 
What kind of promotions does Clearly Australia offer? 
We like to thank our customers by offering plenty of awesome deals and discounts on contact lenses, glasses, and sunglasses. If you haven't already done so, make sure to sign up to receive emails from us so you can take advantage of the exciting promotions we have planned!  
Does my Health Fund work with Clearly Australia? 
Yes, Clearly Australia is fully approved with 100% of Australia's Health Providers. Every purchase on  Clearly.com.au comes with a full detailed receipt that allows customers to claim their rebate with their provider. 
The claim process is quick and straightforward – after completing your purchase, we'll ship your product and you'll receive a receipt via email. You can then use this receipt to claim from your provider. 
How does the subscription service work? 
Clearly Australia is proud to offer a subscription program that makes it easy to keep up to stock with your contact lenses.  
You can choose how regularly you want your contacts to be delivered and arrange for your card to be charged automatically. From there, all you have to do is wait for them to arrive and sort them with the rest of your post! 
To sign up, log into your My Account, select 'Subscription', and enter your preferences, address, and payment details. 
Is Clearly.com.au a secure website? 
Yes, Clearly.com.au adheres to PCI (Payment Card Industry) Security Standards. These involve a range of security policies, processes and tools to secure customers financial details and identities. For more information, please read our Privacy Policy or contact one of our Vision Ambassadors. 
What happened to OzContacts, YourContacts, WebContacts, and NetOptical? 
As Australia's biggest online contact lens provider, we are passionate about expanding our services so we can achieve our mission of bringing affordable eye care to every Aussie. Merging OzContacts, YourContacts, WebContacts, and NetOptical into the Clearly Australia family is a vital step in working towards this goal.  
Michael Aarts, Managing Director of OzContacts, said:
It has been a privilege over the years to have helped many thousands of Australian contact lens wearers receive better value buying their contact lenses online with us. Contact lenses may be small, but they make a big difference to our customers' outlook on life. We are proud to have delivered not only millions of contact lenses, but also on the trust that our customers have placed in us to help them with something as important as their vision. With Clearly.com.au's ongoing commitment to vision care, we are confident our loyal customers will continue to benefit from an amazing online eye care experience.
Find out more
If you have questions, concerns, or simply want to chat, get in touch with our Vision Ambassadors – we're available 24/7 and waiting to talk to you via phone, email, and live chat. 
You can also read more about us, our story, and our mission and find answers to your frequently asked questions on our help page.