The next addition to our family of Style Ambys is NSW-based Kel Reynolds, a stay-at-home mum who spends her time crafting unique dream weaves. Not only does Kel exude effortless style in our oversized round LOVE sunnies, but she's also damn funny (check out her answers below to see what we mean!).
Name: Kel
Home base: Central Coast, NSW.
Current occupation: Stay at home mum, dream weaver.
Website/blog: www.chiefandkewpie.bigcartel.com
Instagram: @chiefandkewpie
Best Instagram accounts to follow: @beautifullifeindustries (for rad style and some blog goodness) @ladynoel (for art, religion and family).
What inspires me: EVERYTHING! I love retro style and drawing inspo from all things pre loved. I'm a sucker for colour and clean lines.
Sunglasses Style: LOVE L7003S in Tokyo Tortoise
I think glasses should be an accessory just as much as a necklace or hat. If you've got to be vision impaired, why not do it well?!
My glasses collection consists of: Six pairs (not enough).
I chose the pair of glasses I'm wearing because: They are some of the very rare, excellent prescription frames. I have struggled to find price-friendly prescription sunnies that are any good, until I found Clearly.
A tip on picking out the perfect pair of frames is: I wing it. I'd love to give some profound answer but basically, I have big eyes and a huge face, so I like to get big frames. I feel like it might drown out some of that cheek chub. Also, people won't notice a double chin if your glasses are big enough- right?!
Glasses are an important part of your outfit because: Generally your face is what people look at when talking to you. Unless you've got an awesome rack. I think glasses should be an accessory just as much as a necklace or hat. If you've got to be vision impaired, why not do it well?!
My favourite online source for style inspiration is: I love ASOS! I also think sportsgirl can do no wrong. But generally I make it up.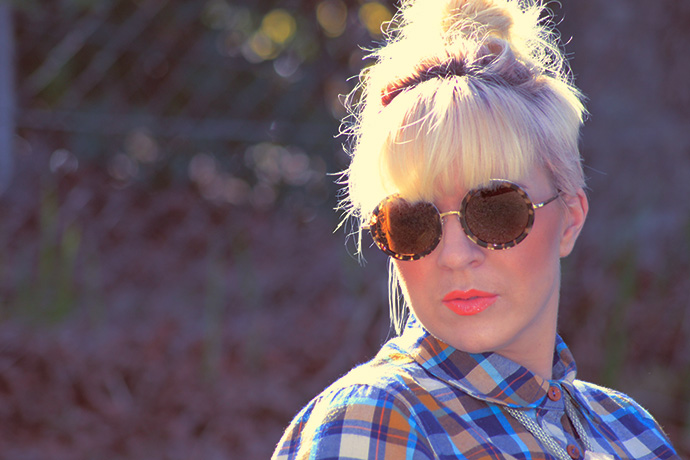 My favourite fashion trend of the moment is: I am really enjoying clashing styles and eras. Like a street tee with a vintage floral blazer. Or some boho harem pants with an Adidas jacket. The weirder the better.
If I could go on holiday with anyone in the world, it would be: My bestie. Or my husband. But probably the bestie. I wouldn't want to be holidaying with anyone I didn't know, how would I relax?!
I would describe my personal style as: Wayward.
My current style muse is: @clairlily. She's the most radical.
Favourite city to go shopping is: Melbourne. Because I've only ever been to Melbourne apart from my home city.
Final word: You can pull off anything if you do it confidently. Except maybe Birkenstocks.