Yesterday we hit the stone pavements of Carriageworks in Sydney for Australia's biggest fashion event of the year. MBFWA 2014 has proven to be a colourful and quirky affair so far, with everyone from top designers to bloggers sporting the latest trends. With our eyes firmly on eyewear trends in particular of course, we decided to round up some of the looks we've spotted so far at Sydney's fabulous fashion extravaganza.
And, don't forget to keep your eyes peeled here and over on Twitter and Instagram @ClearlyAU for our coverage of today's show: We Are Handsome. We're so excited to be teaming up with the stylish swimwear brand and are looking forward to seeing our frames on their models. Stay tuned!
Colour coordination appeared to be a big trend yesterday at MBFWA. We love how this gorgeous fashionista has teamed together her red lips, nails and belt; the perfect contrast to her yellow dress and frames.
This was one of our favourite looks from yesterday. This stylish lady's oversized statement sunnies are obviously the key piece to this look, but we also love how she's worn a black polo-neck knit with vintage-style denim dungarees. The edgy yet feminine look is finished off with her loosely dip-dyed hair. Effortless.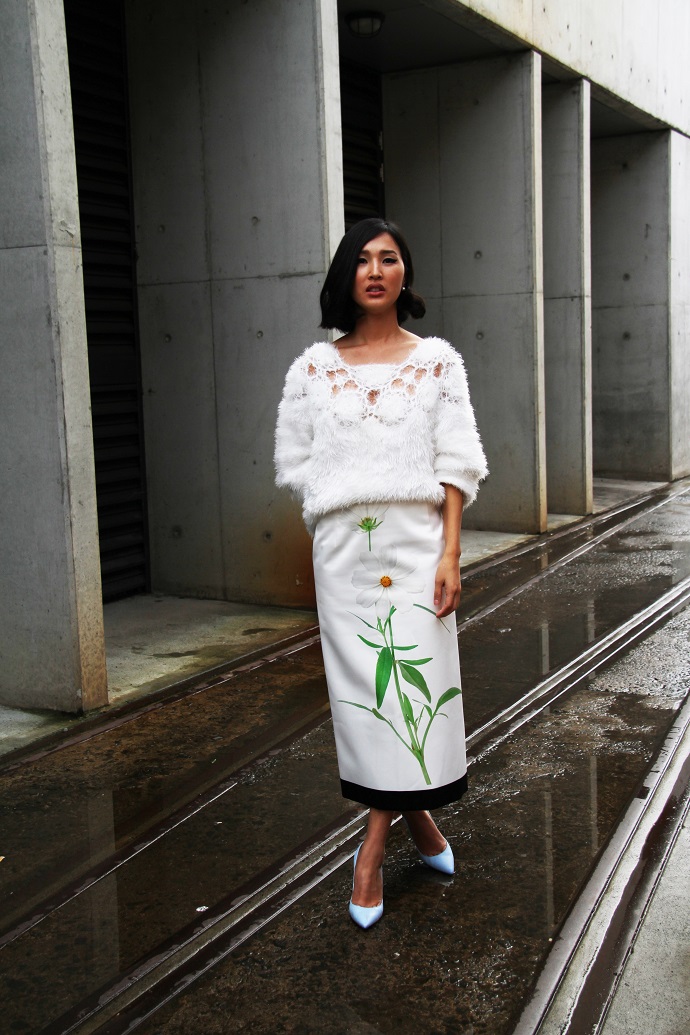 She might not be in frames, but Gary Pepper Girl blogger Nicole Warne looks as chic as ever. We love how she's kept things clean and minimal, nailing the white-on-white trend with ease. The pencil skirt has a vintage feel with its simple yet striking print.
The rain wasn't going to stop Blogger and Stylist Fran Doll opting for a quirky pair of oversized sunnies in red to team with her printed ensemble. Red seemed to be a big trend yesterday, particularly with eyewear.
We've already mentioned colour coordination at MBFWA yesterday, but how about coordinating embellishments? Too much is never enough when it comes to Fashion Week, as is proven here with a sequinned top, studded leather jacket in pink and studded cat-eye sunglasses in baby blue.
This stylish guy teamed mirrored aviators with a clean and contempoary bomber that featured an eye-catching futuristic print. Perfect Fashion Week attire…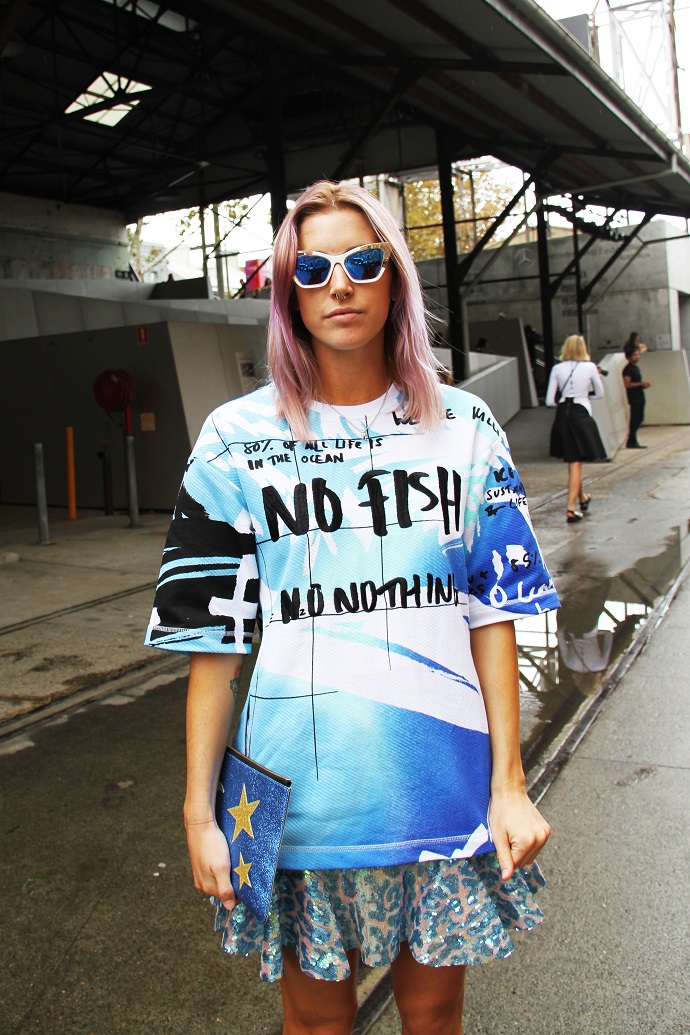 And last but not least, we love this quirky ensemble which is finished off with a soft pink rinse and unique cat-eye sunnies. As predicted, cat-eye glasses and sunglasses were big news at MBFWA yesterday, which we expect to see more of over the coming days.
Follow all of our coverage of MBFWA 2014 over at  Twitter and Instagram @ClearlyAU. And if you're feeling inspired, don't forget to shop our eyeglasses and sunglasses to create your own stylish Fashion Week look…