Most people are aware of the importance of protecting your skin from the sun – but what about your eyes? Sunglasses don't only make it easier to see on sunny days – they're also vital for protecting your eyes from UVA and UVB radiation.
Choosing the right sunglasses is about so much more than showing off your style (though, of course, that's important too!). Here, we talk about the importance of wearing sunglasses to protect your eyes from UVA and UVB rays, as well as UV protection when it's cloudy or overcast.
Learn what to look for when selecting sunglasses (hint: they must specify that they provide optimal UV protection!) and how to prioritize your eye health even when the sun is hiding.   
Why is UV protection important?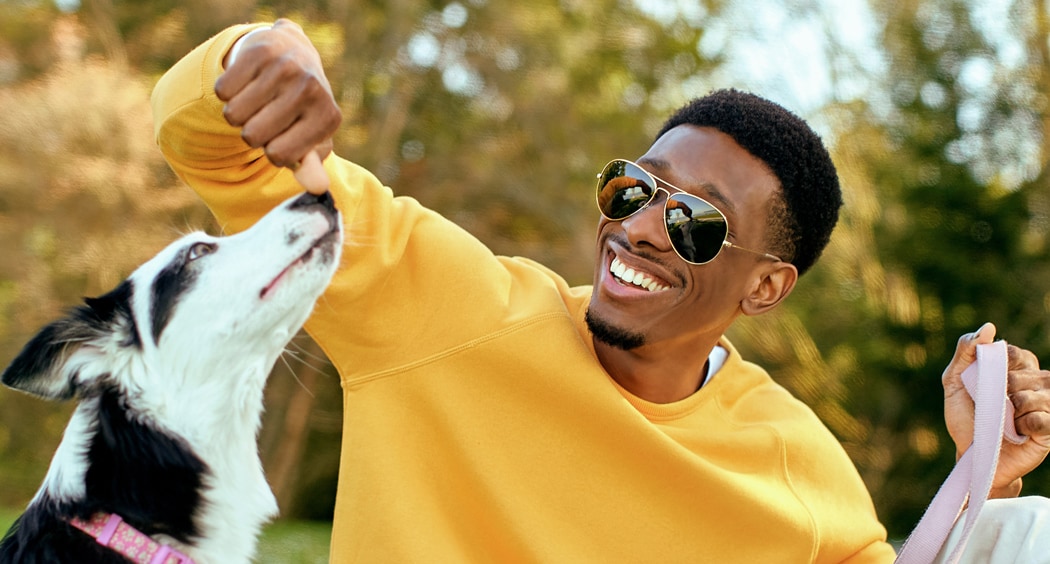 Exposure to UV and HEV rays from the sun can have serious short and long-term implications for our overall health – including retinal diseases, vision impairment, blindness, and cancer.
Wearing sunglasses and glasses as part of your regular routine can help block UV from reaching your eyes, to protect and preserve your eye health.
A quick lesson on UV
Ultraviolet rays are separated into three types: UVA, UVB and UVC. Since UVC rays are completely absorbed by the ozone layer, you only need to worry about protecting your eyes from UVA and UVB. 
UVB rays cause more surface-level damage, like sunburn, which puts you at risk for skin cancer and melanoma. UVA rays are much higher in volume (they outnumber UVB rays by 500 times) and penetrate past surface level, deep into your eyes and skin.
Both of these forms of radiation are responsible for skin and eye damage that can lead to cataract formation and cancer.
Benefits of wearing sunglasses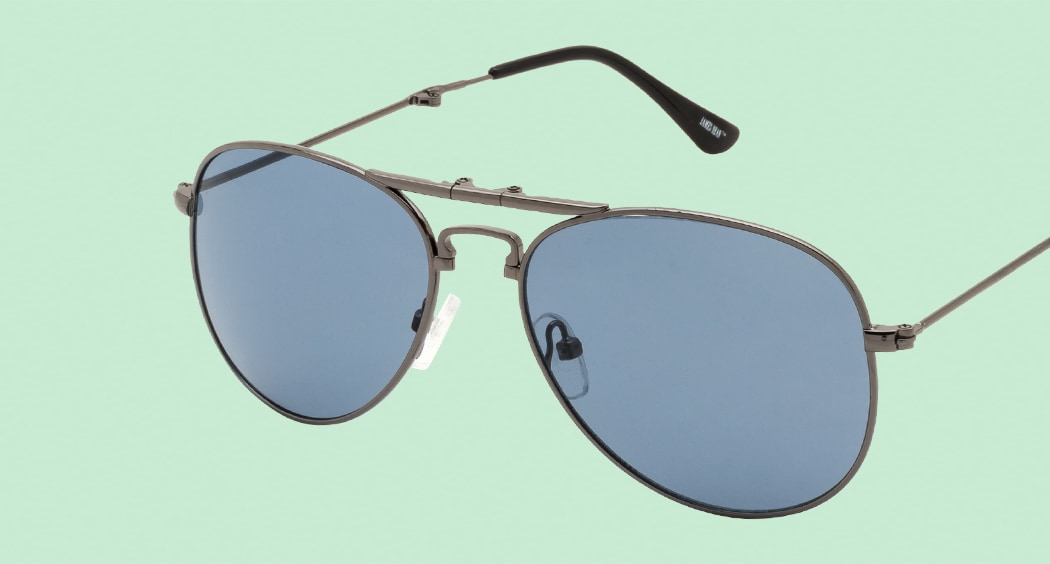 Wearing sunglasses that provide full UV protection will benefit your eyes over the short and long-term: 
Protection from UV damage, for reduced risk of UV-related eye disease
Clear vision in bright, sunny conditions
Enhance your general visual comfort
Reduce exposure to glare
Provide relief for light sensitivity symptoms (squinting, headaches, and eye strain)
Express your personal style (in other words, they look pretty cool)
How to choose the right sunglasses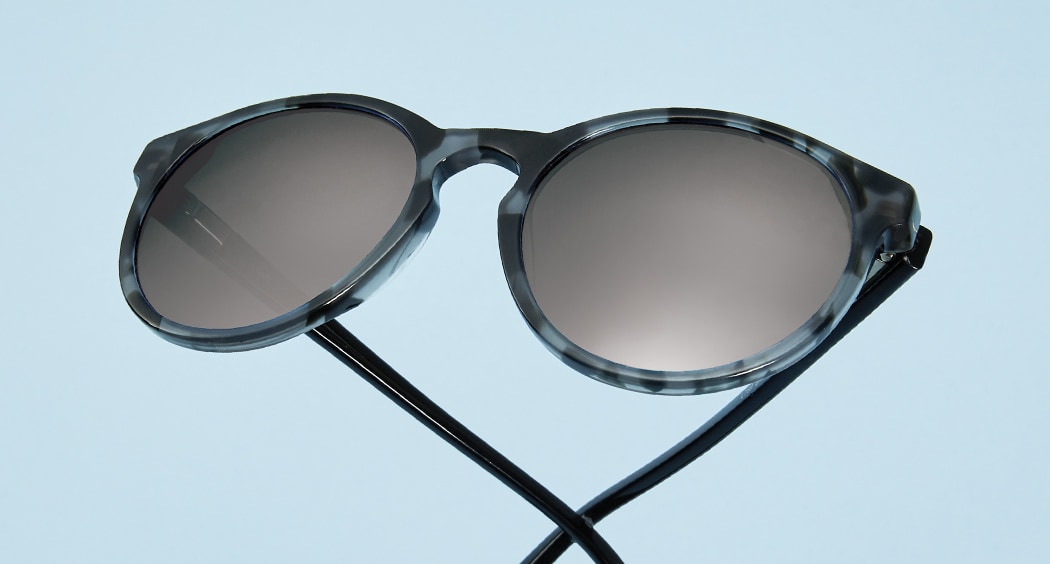 Finding the right sunglasses for you is about so much more than style. From lens type to lens tint, there are a few things to consider in order to find a fit for your lifestyle.
1. Adequate protection
Check the label and make sure they offer UV or UV400 protection.
2. Frame shape and height
Lens height is important to ensure that your eyes, eyelids, and the surrounding delicate skin around them, are completely protected. A lens height of at least 30mm works best for sunglasses.
3. Polarized or non-polarized
Polarized lenses also offer optimal UV protection. 
Compared to classic, non-polarized sun lenses, they include technology that helps to reduce glare and enhance contrast, making them the preferred choice for outdoor sports and water-based activities, as well as driving.
4. Lens tints
While the colour and finish of your lens tint doesn't affect the level of UV protection that your sunglasses offer, different tints are designed for specific conditions.
They're rated by category from 0 (lighter tints) to 4 (very dark tints) – lower rated lenses are designed for weak sunlight or low brightness, while higher ratings are designed for intense sunlight and extreme brightness.
5. Lens coatings
You can boost your lens performance with lens coatings. Mirrored tints are a great option if you're looking for non-polarized lenses for outdoor activities.
Anti-scratch and anti-reflective coatings, like C Shield, will extend the life of your sunglasses and provide vital protection from the sun's glare and UV penetration through your lenses.
6. Style
It's important to put on your sunglasses whenever conditions call for it – which means you need a pair that you can't wait to wear! As well as finding the right frame shape, you can choose between classic, gradient, and mirrored tints, depending on which finish matches your vibe.
Other UV protective lenses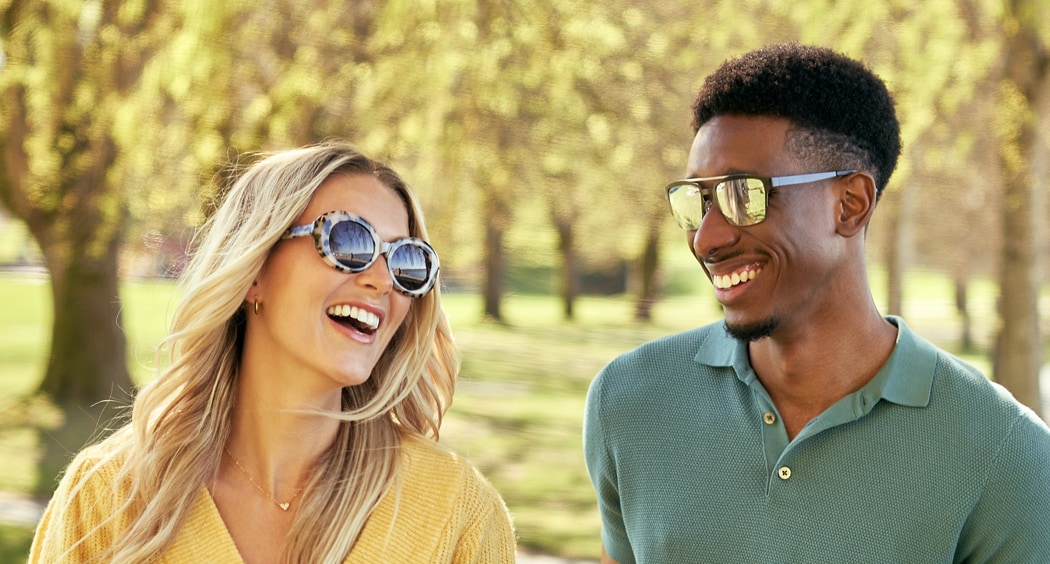 50% of UV exposure occurs when people are not in direct sunlight. Without proper protection, UV poses a year-round threat to your eye health, no matter the weather conditions.
Even when it's not sunny, UV radiation is constantly being transmitted through clouds in the atmosphere and reflected off surrounding surfaces – so your eyes are constantly exposed.
That doesn't mean you need to wear sunglasses at all times – there are other types of clear glasses lenses that can protect your eyes from UV, including:
Blue light lenses:Designed for indoor and outdoor use, our BlueReflect™ and BlueReflect Plus™ blue light filtering lenses protect your eyes from UV light, as well as HEV blue light that's emitted from the sun, digital screens, and other light sources.
Protective coating: You can add a UV protective coating to regular glasses, such as our C Shield lens coating (which is also water-repellant, anti-reflective, and smudge-resistant).
Photochromic lenses:Lenses with photochromic technology, like our Transitions® lenses, automatically darken and lighten based on UV exposure in your environment, for maximum UV protection, seamless adaptation, and relief from light sensitivity.  
UV protection for kids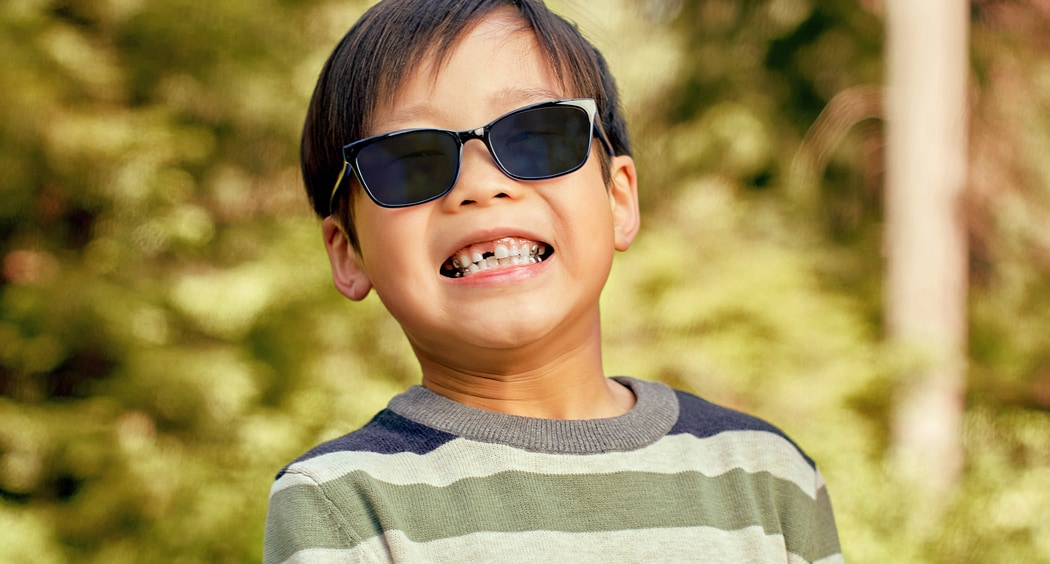 Whether it's school lunch hour or weekend adventures, children are typically exposed to UV radiation due to extended outdoor play, but often miss out on vital protection for their eyes.
Look for sunglasses for kids with UVA and UVB protection, or add a sunglasses tint to kid's frames with or without a corrective prescription.
Busy kids who don't like switching between glasses and sunglasses will benefit from Transitions® lenses that are UV protected with tinting.
What about UV protection for contact lenses?
While some contact lenses offer UV protection, they don't provide the same level of protection that sunglasses do. Optometrist Dr. Justin Asgarpour recommends wearing sunglasses over your contacts when you're outdoors:
"It is important to protect your eyes from harmful UV rays when wearing contacts. It is recommended to wear a quality pair of sunglasses that provide good coverage to the skin around the eyes.
"It is ideal to wear both a UV protective contact lens and sunglasses to protect your eyes and the skin around your eyes from harmful UV rays."
How to buy sunglasses online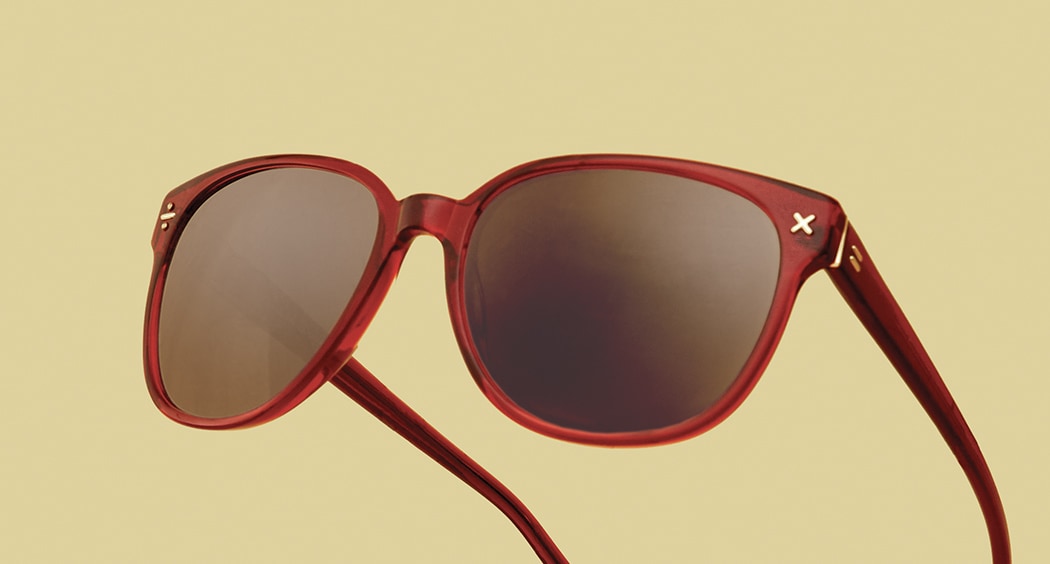 All of our sunglasses and sun lenses offer full UV protection, so you can take care of that first, all-important feature off right away.  
From polarized to traditional, we have many sunglasses lens options to choose from, along with everything from budget-friendly to designer frames. Use the Virtual Try On filter to test out different styles, or shop by face shape for curated options that are designed for you.
Make sure to incorporate your sunnies into your daily routine – whether you're driving or spending time outdoors, your eyes will thank you.
See – UV protection never felt so good! Share your #SeeClearly selfies and sunnies with us on Social.