Marc Jacobs has been named as one of Time magazine's "100 more influential people in the world" and it's no surprise with the brands that are attached to his name such as Marc Jacobs and Marc by Marc Jacobs. Runway to street style, Marc Jacobs will continue to be one of the few in the forefront of fashion being the Creative Director and Designer of Louis Vuitton, Marc Jacobs and Marc by Marc Jacobs.
---
Marc Jacobs
---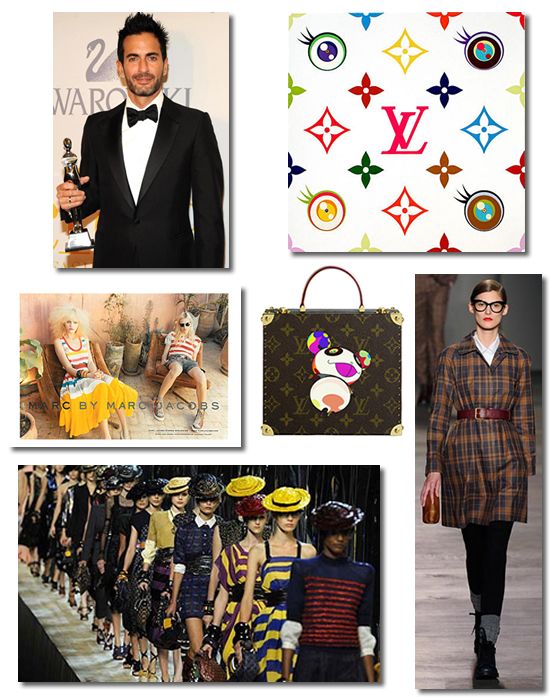 Marc Jacobs graduated at the Parsons School of Design and shortly after won the Council of Fashion Designers of America's Perry Ellis Award for "New Fashion Talent" making him the youngest designer to win the award. He then quickly made his way through the elite fashion ranks with his talent but was dismissed from the school with the creation of his renowned 'Grunge Collection' which is now a cult collection.
Marc Jacobs shortly became the creative designer of Louis Vuitton as well as the designer of his own line. Vogue.com says, "Jacobs has always been a genuine arbiter of cool, a prodigious talent with a third eye for knowing what women want to wear". Marc Jacobs has also been known to collaborate with both artists and designers such as Takashi Murakami, Stephen Sprouse and Richard Prince via the Louis Vuitton brand.
Women's Wear Daily has described the Marc by Marc Jacobs collection as "a collection of little treasures from throughout fashion history, each rewritten in Jacobs's handwriting." He has has personally described his line by saying "it's fine to have a young outlook, but women aren't going to wear just that…the youthfulness in my collection is in its sense of humor."
---
Famous Fans
---
It's no surprise that Marc Jacobs is close friends with those from both the music and fashion industry such as Kate Moss, Sofia Coppola and Pharrell Williams. You can find celebrities in his designs such as Gwyneth Paltrow, Liv Tyler and Freida Pinto.
---
Marc by Marc Jacobs Glasses
---
Marc by Marc Jacobs glasses combine vintage-inspired shapes with unique patterns and colours to keep in line with their brand that offers of-the-moment designs.